INTA 2023 Singapore [Hotel Information] - Alpha & Omega Law Corporation
|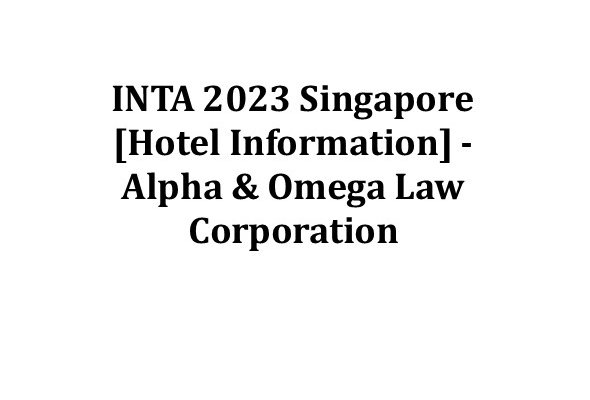 Dear friends,
"SELAMAT DATANG KE SINGAPURA!". This is how we welcome guests to Singapore in our national language. It means "WELCOME TO SINGAPORE!!". We from Alpha & Omega Law Corporation are looking forward to welcoming all of you with open arms to our island big enough for all.

2023 in Singapore is going to be amazing for all who are planning to attend either the International Trademark Association (INTA) Annual Meeting or the Asian Patent Attorneys Association (APAA) General Assembly or both or even on personal visits. We are excited at the prospect of catching up with all our friends and making new ones too. Your time in Singapore will be an experience to be cherished.

To kick start our hospitality, we have prepared a list of hotels that are among other things, strategically located to a subway station (known in Singapore as Mass Rapid Transit (MRT)) that will connect you seamlessly to the Sands Expo & Convention Centre, Marina Bay Sands (Convention Centre).

In preparing this list, we listed hotels that met 4 criteria namely:
walking distance from hotel to closest MRT station [of less than 500m];
travel time by MRT from hotel to conference centre (station to station) [takes no more than 20 minutes (including waiting time)];
direct or up to only one change of MRT line; and
Booking.com ratings of at least 7.5
We hope you find our list useful in helping you make a decision for suitable accommodation.
Please note that none of the data provided reflects or in any way suggest that it is based on personal knowledge, recommendation or the experience of members of the firm. Our sole objective is to provide some useful data that may assist you in finding a hotel that meet your needs during your stay in Singapore.

Please do read the notes that follow our list as it explains source of data, reasons for criteria, links to useful websites and mobile applications.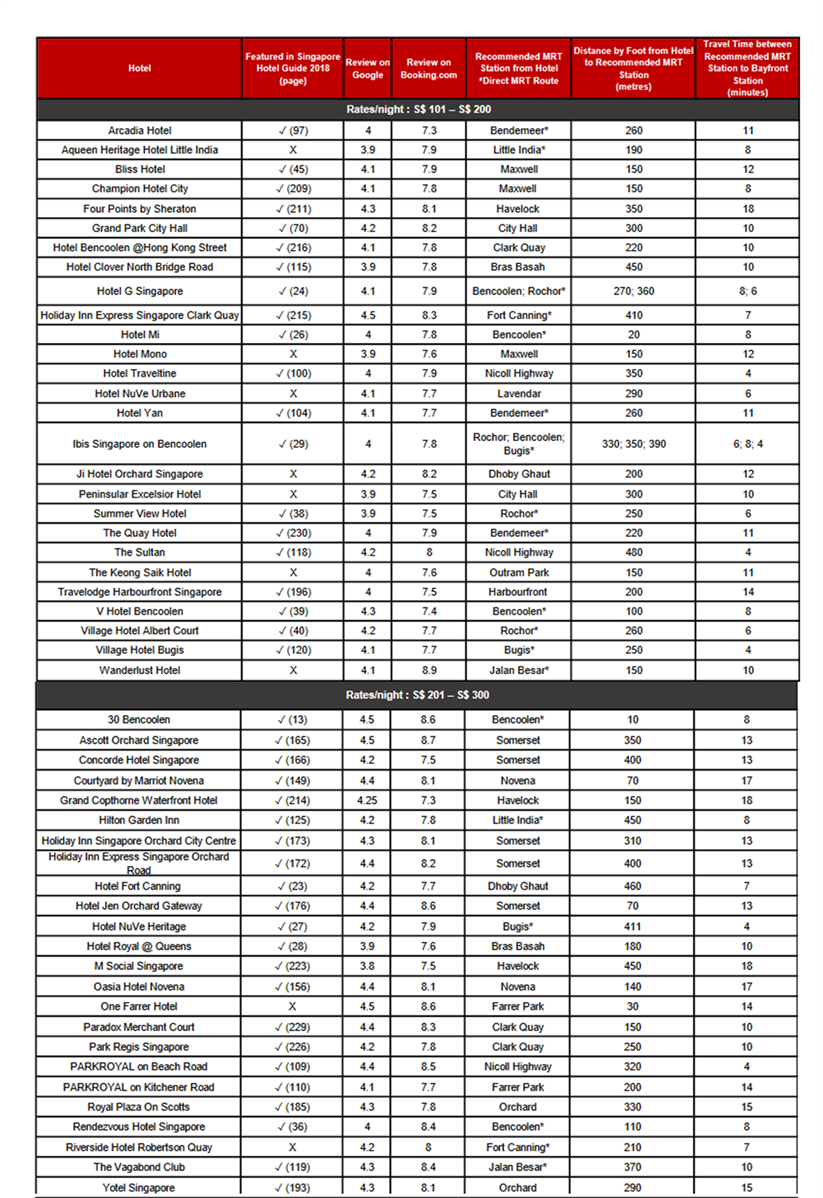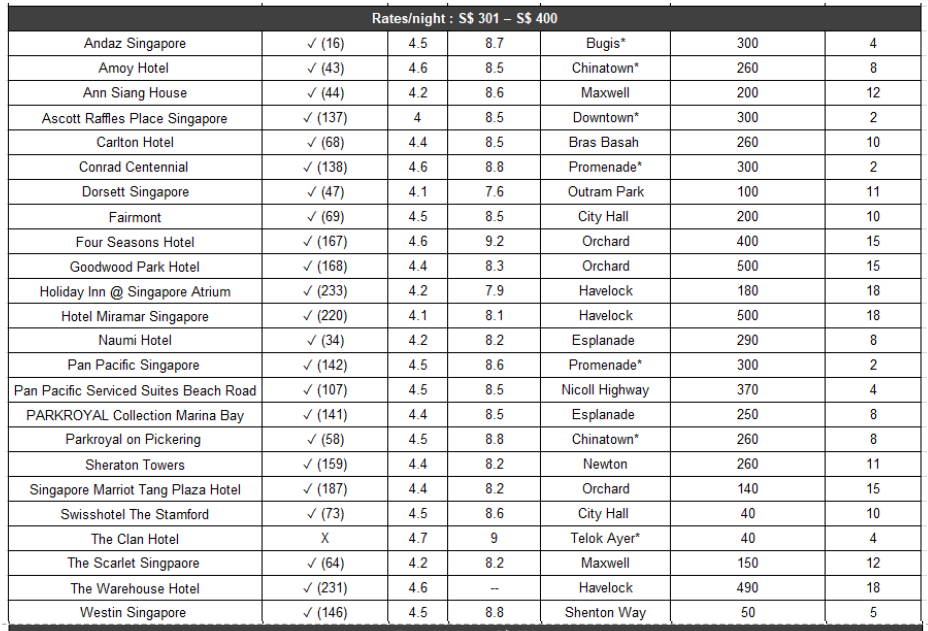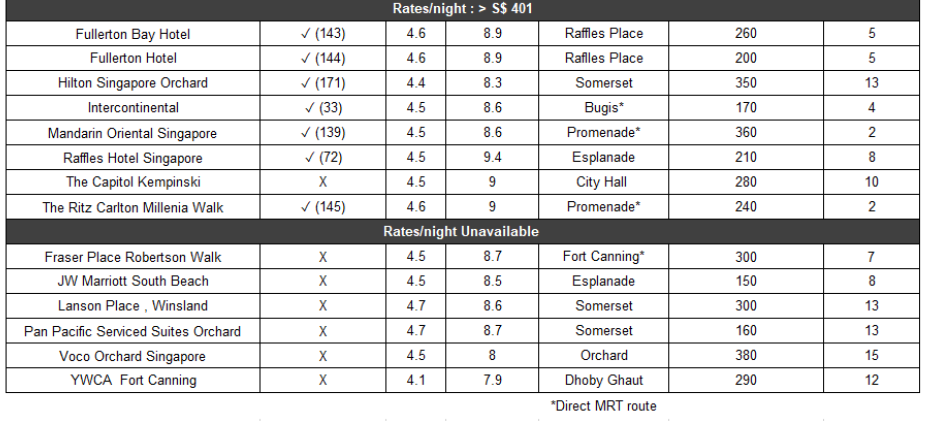 Notes:

Conference Venue
Sands Expo & Convention Centre
10 Bayfront Ave
018956, Singapore


Conference Venue MRT Station
Bayfront MRT station is the nearest station to the conference venue (located within the Convention Centre).
Source of Data
The data in our list of hotels was extracted from the following source:
a. Singapore Hotel Guide 2018;
b. Visit Singapore app;
c. SG MRT app;
d. Google; and
e. Booking.com.
Singapore Hotel Guide
Although the last edition of the Singapore Hotel Guide published by Singapore Tourism Board was in 2018, this guide remains very useful as it provides details of the facilities available at each hotel. Particularly useful if you have dietary restrictions or if you need a family friendly hotel. Where we have listed a hotel from the guide, we have included the page number that you can cross reference.
Separately, the cost of the hotel indicated in our list with the "$" sign is extracted from this guide and/or google. Please do expect current room rates to be approximately 20-30% more than the 2018 rates. We believe this is the current global trend in relation to room rates, post-Covid.
To download the guide:
https://www.stb.gov.sg/content/dam/stb/documents/industries/SingaporeHotelGuide2018.pdf
Visit Singapore App
This app is useful to view the MRT stations that are nearby and the walking distance to these stations. We have listed the closest station based on data in this app.
To download the app :
https://www.visitsingapore.com/travel-guide-tips/visit-singapore-travel-guide-app/
SG MRT App
We encourage you to download this app to find the best route via MRT transportation. Depending on the station, MRTs run from between 5.30am to just past midnight.
To download the app :
https://play.google.com/store/apps/details?id=com.roarapps.singaporemrt&hl=en_SG&gl=US&pli=1 (Android)
https://apps.apple.com/sg/app/singapore-mrt-lrt-offline/id689701416 (Apple)
Criteria
Our hotel selection criteria came about after considering:
a. Singapore's humid weather and how uncomfortable it can get walking outdoors in business wear;
b. short and convenient travel journeys (by MRT) to the Convention Centre and locations where most receptions are likely to be held. These days it is not as easy/convenient to get a taxi due to the lack of taxis and private car hire (ride hailing apps - Grab, Gojek and TADA. Please note Uber no longer has a presence in Singapore.) particularly at night and when it rains; and
c. reasonably comfortable hotel room.
Due to our 4 selected criteria explained earlier, many of Singapore's 5 and 6 star hotels are not on our list. Marina Bay Sands Hotel has not been included as it is the official conference hotel and within walking distance to the Convention Centre.
Budget hotels chains (e.g. Ibis budget, Fragrance Hotels, Hotel 81) have been left out as well as their review rating is below 7.5. Having said that these budget hotels are located strategically (close to MRT stations). Let us know if you are keen to explore these hotels.
Should you like to receive our list of hotels in Excel format, please do write to us privately at inta2023@alphaandomega.com.sg and a copy will be sent to you. Please also feel free to write to us if you need any clarification or any additional information. More than happy to help!
Finally, we take this opportunity to wish you, your family, and colleagues a very Happy New Year. May 2023 be filled with health, happiness and spectacular success!
See you all soon!
Thank you.
Renee Xavier
Director,
Alpha & Omega Law Corporation